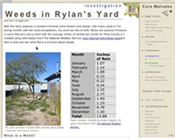 How Rylan Created his Treehouse Investigation
Step 1 About this Page
See the sections below to learn how Rylan planned for and composed Step #1 of his treehouse investigation, Weeds in Rylan's Yard.
Planning / Following the Basic Treehouse Guidelines / Following the Basic Treehouse Guidelines
Planning
Rylan decided to create a treehouse on his own that he wanted to let other people use as they please to learn about weeds.
Basic Treehouse Guidelines: About this Page
Author, copyright, ToL use, and acknowledgements information must be completed and correct.
Editing with the Treehouse Editor
Rylan is the author, copyright owner and correspondent, so he kept all three boxes checked.
Rylan is happy to let people use the information in his treehouse in whatever way they want, so he chose "unrestricted use," which is option #3.
Try it Yourself!
To use the treehouse editor you may either:
Or, if you are not yet registered as a treehouse builder you can try out the treehouse building tools. However, note that nothing that you create while trying out the tools will be saved to the ToL database.
Once you are at the Treehouse Editor, choose Step 1 Edit About This Page. Try filling out the fields. When you click on Save and Preview you can see the changes you have made to your page. Be aware that not all of the information that you have entered will be displayed in the page.